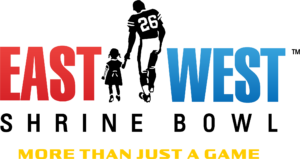 Logo Guidelines
A significant element of building the East-West Shrine Bowl™ brand is our visual identity. Consistent use of our logo will communicate a clear message and strengthen the integrity of our brand.
The components of the logo must not be altered.
Exceptions to the rules might be necessary for 3-color imprint and embroidery purposes.
Clear Space
Clear space is there to make sure the logo can "breathe" and is not crowded by other elements. The logo must be surrounded by a minimum amount of clear space. Thus, the logo is separated from images, text, or the edge of the format. The minimum clear space prescribed is 1/5 the height of the logo. This specification must be maintained around all four sides of the logo.
Variations of Color
The logo may appear in color, grayscale and solid in a positive format. The solid variation may also appear in reverse. Use the full color logo whenever possible.