2022 East-West Shrine Bowl- How Media Can Cover Practice Virtually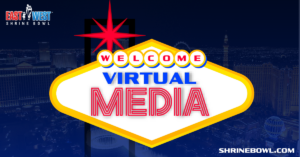 This year, the East-West Shrine Bowl™ will be offering media the chance to cover the 2022 Shrine Bowl virtually! We know that thanks to the COVID pandemic as well as changes to the event this year, not everyone can attend the 97th annual Shrine Bowl, so we've got multiple ways you can take part in the Shrine Bowl virtually!
1. Watching Practice Film: While NFL Network will be hosting live look-ins at practice on Monday and Tuesday, you can start watching film from practice sooner! Practice will be made available to non-NFL personnel starting Saturday afternoon. If you would like to request access to that film to watch during the week, please email Shane Coughlin ( scoughlin@shrinebowl.com) to be added.
2. Post-Practice Press Conferences: Each day immediately following each practice, the Shrine Bowl will host a Twitter Live press conference. You'll get to hear from our game's director Eric Galko as he breaks down who impressed at practice, as well as from two of our players. You'll get the chance to ask questions on Twitter Live to Eric and each player!
3. Microsoft Teams Player Meetings: On both Monday and Tuesday, the East-West Shrine Bowl will make select players available for media questions via Microsoft Teams. To be added to the list for more information, please contact Aliyah Smith alsmith@shrinenet.org.

We're sorry you're unable to cover the 2022 East-West Shrine Bowl in person with us this year, but we're excited to offer you multiple ways to enjoy, experience, and get the most out of the Shrine Bowl this year.!