EAST-WEST SHRINE BOWL PARTNERS WITH PERFORMUS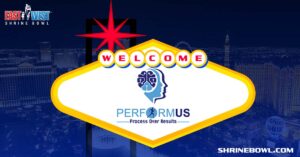 LAS VEGAS (August 24, 2021) – The East-West Shrine Bowl™, which supports Shriners Hospitals for Children®, announces PerformUS as a mental performance coaching partnership for the 2022 East-West Shrine Bowl.
The 2022 East-West Shrine Bowl aims to put a substantial focus on mental health and mental performance, and PerformUS will provide players with structured coaching on how to be at their best during the Shrine Bowl event week. PerformUS will also have additional, optional sessions for players to attend for added coaching and development during the week.
"The Shrine Bowl aims to have best-in-class resources for our players during the 2022 event, including an emphasis on mental performance," said Eric Galko, director of the East-West Shrine Bowl. "PerformUS works with current and future NFL players, and their training will help prepare and manage our athletes not just during the event week, but hopefully give them the tools to be successful in their future football careers."
PerformUS is also looking forward to the partnership and the potential it provides for player development.
"PerformUS Consulting is honored to partner with the East-West Shrine Bowl to help athletes and coaches optimize their mental performance," said Gary Frazier, founder of PerformUS. "We aim to raise awareness for the importance of mental performance as an integral part of player development for all levels of sport. This partnership exemplifies the efforts of the East-West Shrine Bowl to help athletes be their best personally and professionally."
The East-West Shrine Bowl benefits Shriners Hospitals for Children and its mission to provide excellent care for children with orthopaedic conditions, burns, spinal cord injuries, and cleft lip and palate, regardless of the families' ability to pay. The 97th annual East-West Shrine Bowl will be played in primetime on Thursday, February 3, at Allegiant Stadium, home of the Las Vegas Raiders. The nationally televised game will be part of NFL Pro Bowl week festivities.
About PerformUS Consulting
PerformUS is an online and live coaching and training platform created by Gary Frazier designed to optimize people and organizations. We provide the training and tools to help individuals uncover and super-charge their skills so they can be their very best every day — regardless of conditions or environment. The skills we teach and coach are evidence-based and empirically researched. Our mindset training has been used by the top high performing leaders, from Military and professional athletes, to Fortune 500 executives, to A-list celebrities, and all athletes.