East-West Shrine Bowl Announces New Online Counseling Partnership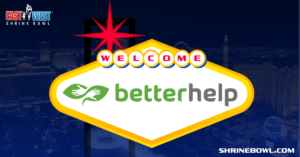 The 2022 East-West Shrine Bowl™ is proud to announce that BetterHelp will be the official online counseling partner of the 2022 event.

BetterHelp – the world's largest online counseling provider – successfully connects millions of users with thousands of licensed therapists across the US via texting, instant messaging, live phone calls, and video chats.

For players attending the 2022 event, Shrine Bowl participates will have access to a FREE month of live or digital therapy by BetterHelp, as well as a discount for the future should they wish to continue with BetterHelp's world class program.

"Mental health awareness and education is a highly important part of the player focus and experience at the 2022 Shrine Bowl," said Eric Galko, Director of Football Operations and Player Personnel. "Partnering with BetterHelp is an outstanding opportunity for our players to get access to world class therapy and ensure they can show their strength by utilizing the best resources to be at their best each and every day."
BetterHelp, and all of the resources at the Shrine Bowl, aim to promote mental health awareness and give players at the event as well as those in their lives the tools to be at their best at the Shrine Bowl, during the NFL Draft process, and throughout their life on and off the field.