Shrine Bowl Announces Changes To Game Week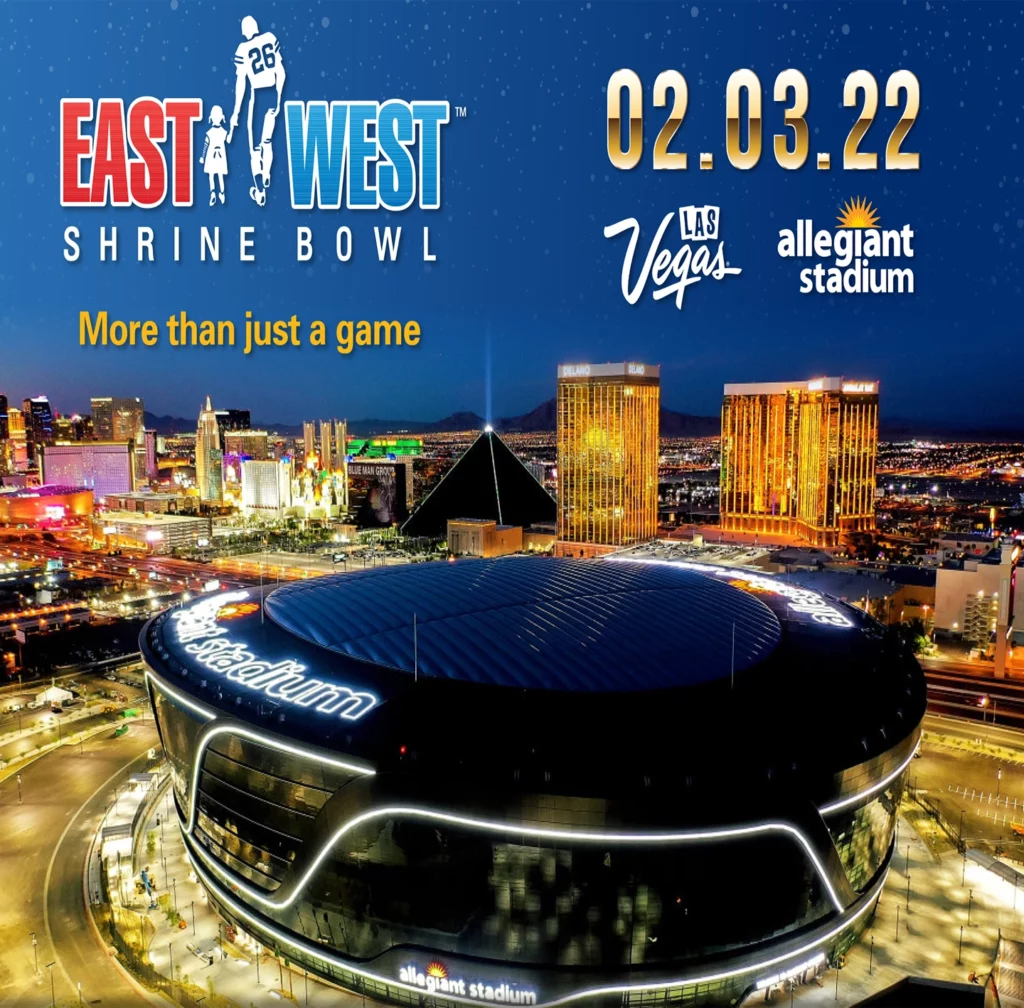 Along with changing locations and partnering with the NFL Pro Bowl at the event for the 2022 event, the East-West Shrine Bowl is pleased to announce other updates to the event on the football operations, media, and player schedule during the week.
These updates will be implemented to create a better environment for players to succeed, NFL teams and media to accomplish their goals for the event and continue to make the Shrine Bowl a best-in-class college all-star event.
1. Rosters Will Be Divided by Offensive and Defensive Personnel
In years past, the East-West Shrine Bowl, like many other college all-star events, divided their roster based on geography, NFL team preference, or randomly. In an effort to better allow for players to showcase their ability at their future NFL position and scheme, we will be dividing up our East and West roster by NFL personnel groupings.
On offense, our rosters will have players split based on scheme and the ability to highlight their strengtths and future NFL role. Similarly, one of our rosters will have a base 4-3 (and 4-2-5) defensive personnel, while the other will utilize a 3-4 (and 3-3-5) personnel.
Players will be able to get work in practice at multiple alignments and are not simply bound by these groupings, but it will allow for players in team periods and in game to better showcase their abilities to NFL evaluators.
2. There will not be a formal Weigh-In Event
In a substantial change to our game week, the East-West Shrine Bowl will no longer be hosting a weigh-in event that is viewed by NFL personnel and media for players. The weigh-in process is a valuable component in assessing player body types, key to the scouting process, but we feel it no longer needs to happen as a public spectacle.
Instead, players will be weighed and measured as a part of their check-in process when they arrive in Las Vegas. Our plan is for the weigh-in process to be recorded for record and sent to all NFL personnel for their verification shortly after completion.
3. We Have Committed over 20 Hours of Available NFL Interview Time
The biggest feedback received from NFL personnel was that player interview time stands to be more organized and emphasized on the game week schedule.
After reviewing process and allotted time at all of the major all-star events, the Shrine Bowl has revamped their interview process to include substantially more time for organized, valuable interviews for NFL personnel and players.
4. Media Interview Time will be over 5 Hours with Players
Content is a substantial focus for the Shrine Bowl this year and moving forward, and along with media and storytelling education and training (most notably through our GALVanize partnership), our players will have ample time to tell their story to media personnel during the Shrine Bowl.
Media covering the event will have a unique opportunity for access, time and resources to interact and connect with players, more than just a few hours that has been done at many all-star games of the past. Additionally, the Shrine Bowl will grant added access to media entities that
5. Player Obligations will End at Approximately 9:00pm
The Shrine Bowl will have a substantial player health and wellness focus, and that notably and especially includes mental health and performance. Along with resources and partners available to players, our schedule will be conducive to players being in the right mental state during an important week in the NFL Draft process journey.
After receiving feedback from past all-star game players about their nights ending at 11:00pm or later at major all-star events, we are striving to have all player obligations completed by 9:00pm, allowing for ample rest, relaxation, recovery and sleep time for our players during the event week.