Shrine Bowl in the NFL:Week 1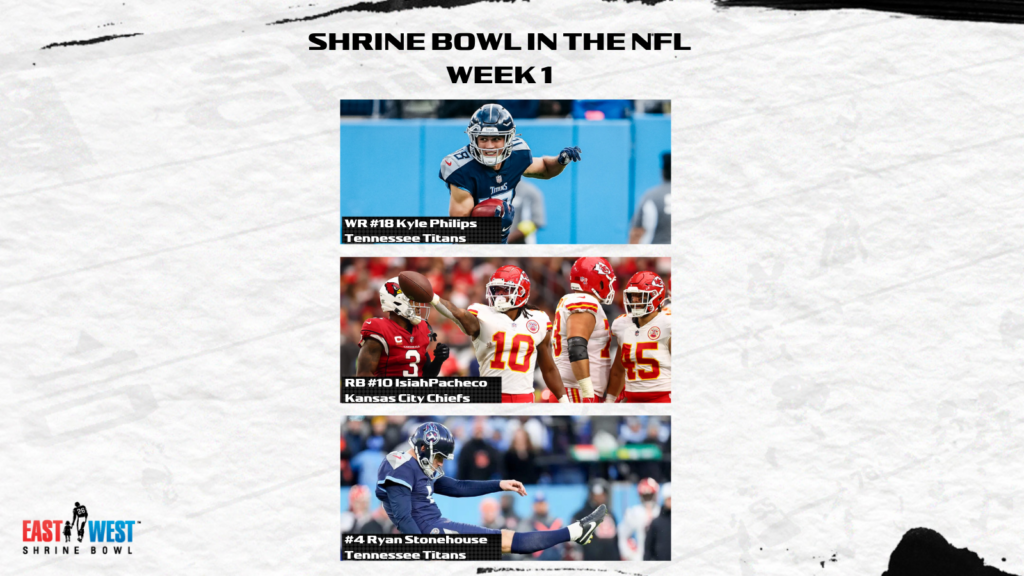 More than 90 of our 2022 East-West Shrine Bowl class are now joined with hundreds of our alumni in the NFL.
Key notes:
*More than 90 players on rosters or NFL practice squads (53 on current 53 man rosters.)
*All 5 of our Division II players made NFL rosters.
*All 3 of our HBCU players were either drafted or made NFL rosters.
Below are our week one top performers.
P Ryan Stonehouse – Tennessee Titans
Special Teams Coordinator Craig Aukerman has praised Ryan Stonehouse for his field punts and "big-time" leg. Stonehouse is in the Top three Punters ranked by pEPA, after week one. He ended the game with six punts averaging 57 yards with a long of 66.
WR Kyle Philips – Tennessee Titans
Kyle Phillips been an asset to the Titans offense. He had a total of nine targets, six catches for 66 yards, ahead all Titans receivers.
;
RB Isiah Pacheco – Kansas City Chiefs
Isiah Pacheco led the Chiefs in rushing yards (62) with 12 carries and a touchdown.
The 2023 East-West Shrine Bowl will be played on February 2, 2023 at Allegiant Stadium in Las Vegas,NV.