"Why Shrine Bowl": A Best-In-Class, Unforgettable Player Experience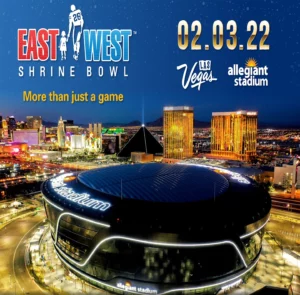 The East-West Shrine Bowl will have our 97th annual game, the longest standing college all-star game in the country, on February 3, 2022. But this year won't be like Shrine Bowls of the past for our player attendees.
With a new location (Las Vegas), a new partnership (the NFL Pro Bowl), and a host of new improvement to event (after speaking with hundreds of players, coaches, agents, scouts, executives and sports performance professionals), the 2022 East-West Shrine Bowl will be the best, most efficient, and most enjoyable all-star experience ever for players.
Here's why.
Meet NFL Pro Bowlers: With the Shrine Bowl's partnership with the NFL Pro Bowl, our players will get the incredible opportunity to meet, interact, and learn from the best players in the NFL while they're in Las Vegas.
By turning idols into peers, the Shrine Bowl attendees will get to engage with the NFL's best and hear insights on how they got to where they are now, something players rarely get during the pre-draft process.
Experience an NFL Stadium and Facility: Getting the chance to play in an NFL stadium is something most college athletes don't get to do in their college careers. At the Shrine Bowl, getting the chance to practice and play a game at an NFL facility will give our athletes awesome insight into their future as a pro.
And it's not just any NFL stadium, but the brand-new Allegiant Stadium in Las Vegas.
Work with an Array of NFL Coaches: For the last decade-plus, the East-West Shrine Bowl has and will continue to feature NFL coaches from at least 8 different NFL teams coaching in the game, more than any other college all-star experience.
That gives players a chance to learn from experienced, differing background coaches that are at the NFL level as they prepare for their NFL journey.
Ensuring Players Own Their Own Data: As a college athlete, through the NFL draft process and into the NFL, teams and companies are collecting, owning, and making decisions with a PLAYER'S data. At the Shrine Bowl, that won't be the case. We'll have best in class data gathered by BreakAway Data, an industry leader in data capture, as well as other top partners to ensure we have the data collected that can lead to important insights.
Players will get exclusive access to their GPS, cognitive, and other data sources to own the information about their abilities, receive analysis to help them improve or stay healthier, and learn how to use that data to improve personally and professionally. Power to the players.
Take Advantage of Marketing Opportunities: While NIL has allowed college athletes to profit off of their name, image and likeness during their college career, for most players, turning pro means marketing opportunities are ready to be seized. And we want to help.
We'll have some of the top brands and companies there for our players to meet and network with, and to potentially lead to long-term relationships between players and brands to mutually benefit (and profit) from while at the Shrine Bowl.
Be Treated Like a Professional: In speaking with former Shrine Bowl and many all-star game attendees, we've heard the frustrations of a jumbled schedule, being over-worked, and not feeling like the week was structured to give players a chance to succeed.
We've revamped the schedule, ensured our athletes have the right technology to be organized, and start their path in the NFL city, with NFL teams watching, to be treated and get the chance to show they can be an NFL player.
Receive Top Player Health and Recovery Resources: The all-star game process is a stressful one for players. Performing at the highest level in a new environment and against the best college players in the country, along with interviewing with 32 potential NFL employers.
The Shrine Bowl will ensure we have outstanding injury prevention resources, massage therapists, NFL-level athletic training personnel and ample time for recovery and sleep to allow players to be at their best, and enjoy the experience, all week long
Enjoy Las Vegas: Let's not forget: the 2022 Shrine Bowl is in Las Vegas, the most fun city in the country and easily the best city to host a college all-star event.
Players will focus on their performance and interviews during the week of practice, but still have plenty of time to see the city, experience what Vegas has to offer, and have the chance to enjoy a destination trip with friends and family, capped off by a game at Allegiant Stadium and on NFL Network!
Play for More than Just Yourself: The East West Shrine Bowl is not just an all-star game; it's about much more than that.
The Shrine Bowl benefits the Shriners Children's, and allows players to interact with patients, learn their stories, and gain valuable perspective on why they're playing in the Shrine Bowl raises awareness for these patients.
For these reasons (and more to announce prior to the event), we're excited to host only the best senior players in the country in Las Vegas, and we're looking forward to an event that will make players feel prepared, confident, and comfortable as they begin their NFL journey.
To all top seniors in the country: don't miss out on the 2022 Shrine Bowl experience!