NFL Legends to Serve as Captains for 2022 East-West Shrine Bowl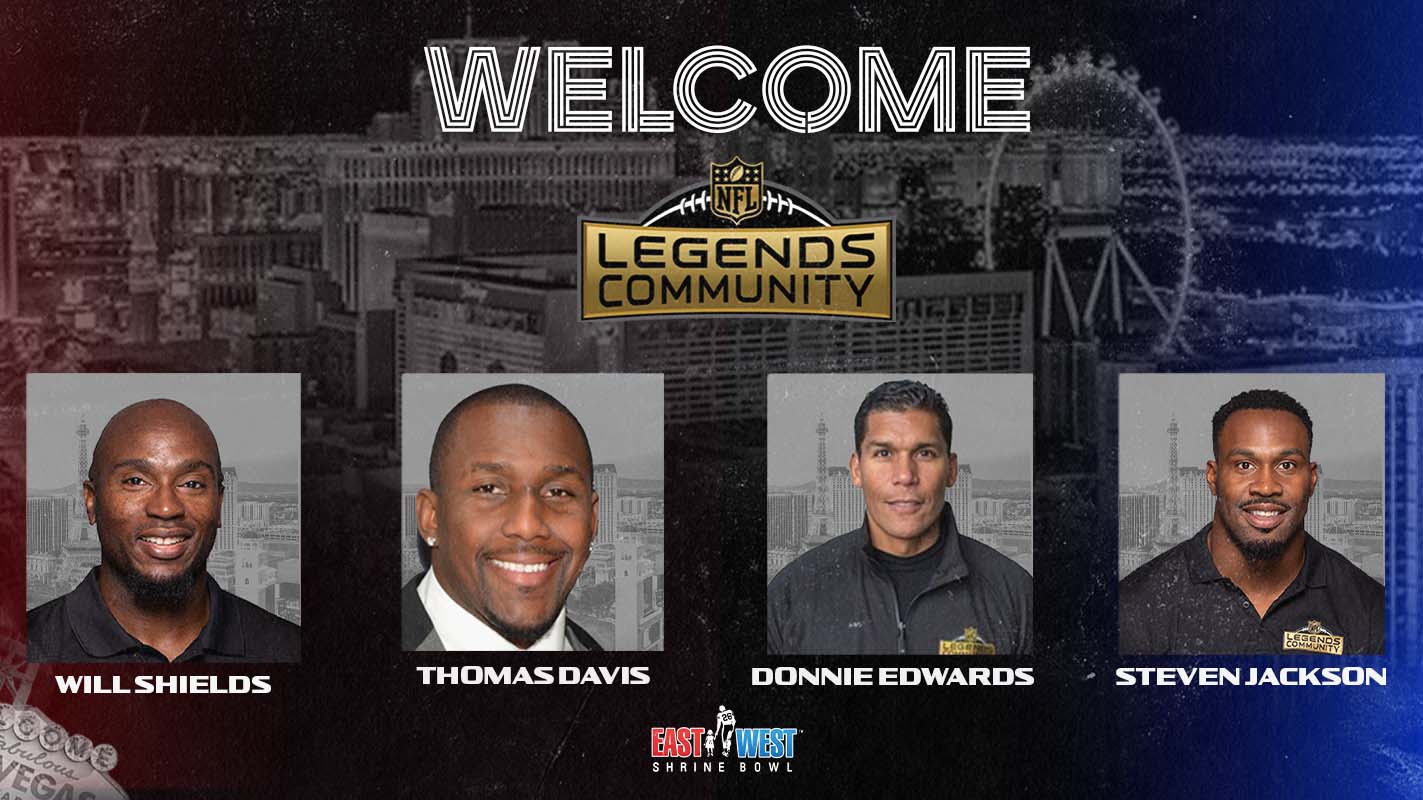 Pro Football Hall of Famer Will Shields, three-time Pro Bowlers Steven Jackson and Thomas Davis, and NFL Legend Donnie Edwards will serve as the 2022 East-West Shrine Bowl Legends captains, the NFL announced today.
The four Legends captains will serve as mentors for players throughout the week and be present on the sidelines on gameday. They will be joined by NFL and East-West Shrine Bowl Legend Charlie Brown, who will be in attendance. Following a standout college career at South Carolina State, wide receiver Charlie Brown was selected in the eighth round of the 1981 NFL Draft by the Washington Redskins. Brown helped lead the Redskins to a Super Bowl XVII championship and was selected to two consecutive Pro Bowls (1982, 1983). In his retirement, Brown regularly supports Shriners Hospitals for Children at charitable events throughout the year.
"NFL Legends Steven Jackson, Thomas Davis, Donnie Edwards and fellow East West Shrine Game Hall of Famer Will Shields are not only captains for the game, they are active participants in the development of these draft-eligible prospects," said Troy Vincent, Sr., NFL Executive Vice President of Football Operations. "The next generation of football athletes will benefit all week from these Legends' knowledge of the game and understanding of the evaluation process. This interaction is part of how we celebrate Legends of the past and those of the future."
The 97th East-West Shrine Bowl, which features some of college football's best prospects, will kick off at 8 p.m. ET on Thursday, February 3, from Allegiant Stadium in Las Vegas, Nevada and will be televised on NFL Network.
"Having these four legends working hands-on with our East-West Shrine Bowl all-stars for the week in Vegas is a once-in-a-lifetime experience for these NFL hopefuls," said Bob Roller, director of national sports management for Shriners Hospitals for Children.  "We greatly appreciate their time and commitment to support our charity and to show our all-stars what it takes to succeed on the professional level."
Donnie Edwards was born in San Diego, California. He attended college at the University of California, Los Angeles. During his thirteen seasons as a linebacker in the NFL, Edwards played for the Kansas City Chiefs (1996-2001, 2007-2008) and the San Diego Chargers (2002-2006). Since his NFL career, Edwards has devoted himself full-time to philanthropy. He donates time and money to the charitable organizations and institutions that provided positive guidance during his youth. Edwards is also a dedicated supporter of the Child Abuse Prevention Foundation, After School All-Stars, the Best Defense Foundation, and Jump for Life. Donnie is currently a Legends Community Coordinator.
Will Shields played 14 years with the Kansas City Chiefs where he never missed a game at the guard position. He was selected to 12 consecutive Pro Bowls and named to All-Decade Team of 2000s. In 2003, he was named the Walter Payton Man of the Year recipient for his work with the "Will to Succeed" Foundation, a charitable organization for those who have little or no access to other aid. In 2015, Shields was inducted in the Pro Football Hall of Fame. Shields resides in Overland Park, Kansas where he owns and operates 68 Inside Sports. He also serves as a Central South Region Director for the NFL Legends Community.
Steven Jackson was a first-round selection of the St. Louis Rams in the 2004 NFL Draft, Jackson is the Rams' all-time rushing leader with 10,138 yards. A three-time Pro Bowler and member of the 10,000-yard club with a career total of 11,438 yards, he tallied eight consecutive 1,000-yard seasons (2005–12). Jackson, an avid photographer and world traveler, often documents his journeys on his personal website. In 2014, Jackson hosted an art exhibit at a Los Angeles gallery, where he sold several of his works. He currently serves as a Pacific West Region Coordinator for the NFL Legends Community
Thomas Davis was selected 14th overall in the 2005 draft by the Carolina Panthers. Davis played 14 seasons in Carolina before joining the Los Angeles Chargers in 2019. Throughout his 15 seasons, Davis has been named to three Pro Bowls (2015-2017) and was First-Team All-Pro in 2015. In 2014 Davis was named the Walter Payton NFL Man of the Year for his work with the Thomas Davis Defending Dreams Foundation (TDDDF). TDDDF is a non-profit dedicated to providing free programs for underprivileged children. Thomas is currently a Legend Community Coordinator.