Nate Burleson, Co-Host of CBS Mornings and The NFL Today, Inducted Into East-West Shrine Bowl Hall of Fame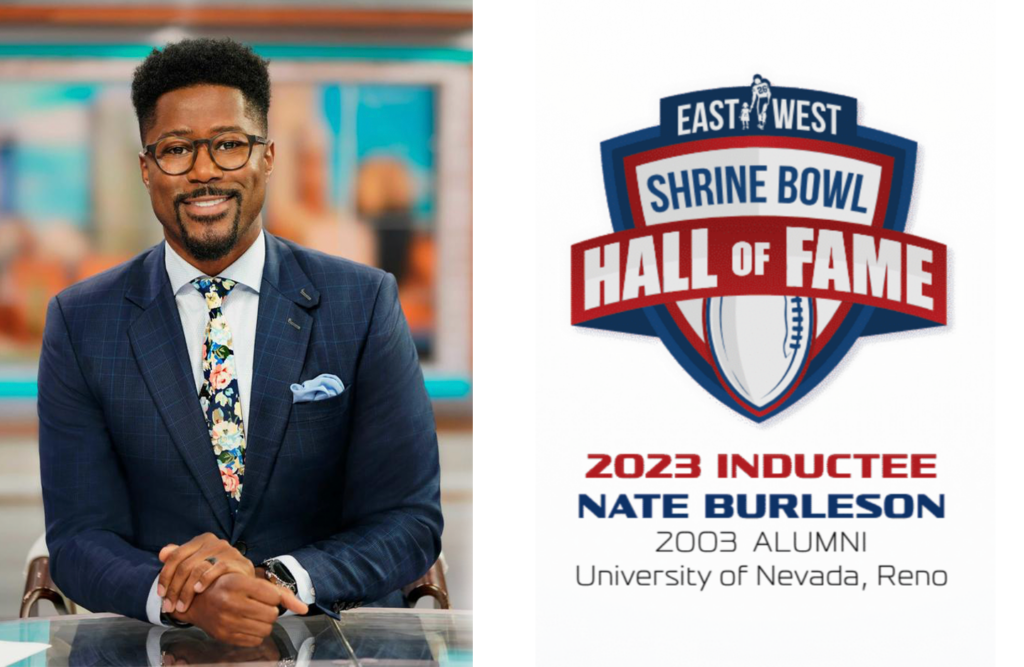 The East-West Shrine Bowl™, college football's oldest all-star game, announced today that former NFL wide receiver and longtime Shriners Children's ambassador Nate Burleson will be inducted into the East-West Shrine Bowl Hall of Fame.
The East-West Shrine Bowl Hall of Fame is home to some of the greatest names ever to play the game. Burleson will join the elite group the week of February 2, 2023, during NFL Pro Bowl Week and East-West Shrine Bowl festivities. The Canadian-born football star is an alumnus of the 2003 East-West Shrine Bowl.
Burleson was an all-star wide receiver for the Nevada Wolf Pack at University of Nevada, Reno. That year, he was drafted in the third round by the Minnesota Vikings, and went on to play 11 years in the NFL as a wide receiver with the Vikings, Seattle Seahawks and Detroit Lions.
"Nate was a unanimous choice of our East-West Shrine Bowl committee this year as he has been such a strong ambassador for our game and Shriners Children's," said Bob Roller, Director of National Sports Management, Shriners Children's. "He has given back to the game following his outstanding professional career and has promoted and supported our cause on his national and international media platforms this past decade. We are thrilled to have Nate join us in Las Vegas and be enshrined in our Hall of Fame."
Burleson currently holds the Western Athletic Conference (WAC) and Nevada all-time records for single-game receptions with 19 catches. In 2002, Burleson made 138 receptions, the second highest in NCAA history.
During his time as a Viking, Burleson recorded more than 1,000 receiving yards and is the only player in NFL history to have three punt returns of 90 or more yards. In 2006, he signed with the Seattle Seahawks. In 2010, he signed a five-year contract with the Detroit Lions, where he received the "Good Guy Award" for his positive interactions with the Detroit media.
Burleson's television career began in 2014 with the NFL Network after he retired from the NFL. Burleson currently serves as an NFL Network analyst on "Good Morning Football." He is a co-host of "CBS Mornings," a position he started in September 2021, joining Gayle King and Tony Dokoupil. Burleson is also an Emmy Award-winning studio analyst for the CBS Television Network's NFL pre-game show, "The NFL Today," and makes select appearances on Nickelodeon.
In a 2020 documentary for the NFL Network, Burleson shined a light on Frederick "Fritz" Pollard, the first African-American to play and coach professional football. From 2019 to 2021, he was an entertainment correspondent for the TV show "Extra."
A native of Calgary, Alberta, Canada, Burleson resides in New Jersey with his wife, Atoya, and three children, Nathaniel, Nehemiah and Mia Pearl.
Created in 1925, the East-West Shrine Bowl is the longest running college all-star football game in the nation. Since 1925, the game has benefited Shriners Children's and its mission to improve the lives of children by providing world-class specialty care, regardless of the families' ability to pay.
This year's East-West Shrine Bowl will be a part of NFL Pro Bowl week, bringing approximately 130 of the nation's top college seniors to be coached by NFL staffs for a week of preparation in front of hundreds of NFL scouts, professional agents and media, all leading up to the 2023 NFL Draft.
The 98th East-West Shrine Bowl will kick off at 5:30 p.m. PST on Thursday, February 2, 2023, from Allegiant Stadium, home of the Las Vegas Raiders, and will be televised live on NFL Network.